A social chronicle of our village and surrounding
areas in, and around the Great War
Author Ron Myatt
FOREWORD
The Great War was a life-changing experience for millions of people; for individuals, families, communities, regions, nationally and globally. It was of significant historical importance. Naturally, our Society wanted to acknowledge the Great War. The challenge was how?
Examples of heroism, bravery and soldiers who made the ultimate sacrifice were already widely displayed and extensive narratives produced. Look at Wyrleyblog for definitive, professional and thoroughly entertaining contents. Initiatives such as the Imperial War Museum Great War gallery cascading into County and Regional developments (such as the Staffordshire Regiment Museum enhancements) and the Staffordshire Great War Trail provided further emphasis to audiences supported by extensive media coverage. However, one missing link was identified!
Everything was essentially military-led and looked out. Where was the inward look at us i.e. the local communities? Did the war have an impact? If so, how did the communities adapt?
Society members were asked for their family remembrances and memorabilia. At the same time, a series of informal research efforts were begun. It quickly became apparent that funding was needed. Thanks to the support of the Heritage Lottery Fund (HLF), this was provided. It has enabled us to produce some answers to the questions on the following pages.
To enable HLF support, a methodology was needed. It has produced a number of further benefits along the way. These are briefly summarised in my personal footnotes. Also, it has been seen that many family histories were still being completed. It is hoped that more contributions will be received to enrich future versions of these contents.
Finally, the answers demonstrated where joint (or team) efforts were beneficial in communities in, and around, the Great War period. This still prevails. Thanks to numerous people, the following pages have significantly benefited from their qualitative and comprehensive contributions.
GENERAL INTRODUCTION
In 1908, the U.K. was the only country that did not raise mass armies by compulsory military service; it was supported by part-time volunteers of Territorial Army and Yeomanry intended for home service only. The Territorial Force came into existence on 1st April 1908, as outlined by Haldane. By June 1st 1908, the Force numbered 144,620 officers and men. One month later, it had risen to 183,000 and 4,765 officers and 99, 982 other ranks attended annual training camp for the full fifteen days.
In 1909, concerns about the nation's defences, and possible invasion, were heightened and a naval scare further added to the concerns.
The UK was the first country to have an industrial revolution; by 1910, only 8% of the population made a living on the land.
There was a large inequality of wealth with 1% of the population owning 70% of the country's wealth. For example, a well-off middle class householder could expect an income up to 100 times greater than employed domestic servants.
In 1910, a possible constitutional crisis arose due to two general elections, death of King Edward VII, plus a wave of industrial unrest and the mounting violence of women's suffrage.
Industrial strife was common; trade unions used their growing power to fight for better pay and conditions. This was exemplified locally by the Fire Brigade in Cheslyn Hay. The Parish Council Fire Brigade committee meetings regularly referred to resignations and demands for pay increases of up to fifty per cent (At the meeting on December 12th 1913, a letter was raised from all the firemen asking for a wage increase and giving twenty-eight days notice of their intention to terminate their services on December 31st).
In 1911, a perceptible fall in numbers in the Territorial Force was seen and a continuing decline persisted during remaining years of peace; Over 197,000 failed to attend the annual camp for the full fifteen days in 1911.
In 1912, forty million working days were lost due to strikes. The suffrage movement was forceful in its demand for the right to vote with direct acts of public protest and vandalism. (Cheslyn Hay had a Women's Unionist Association)
OUTLINE PROFILE OF LOCAL AREA
Kellys Directory states Cheslyn Hay was a village and parish formerly extra-parochial adjoining Wyrley station of the Walsall, Cannock and Rugeley line of the London and North Western railway lies 2 miles south of Cannock and 6 north of Walsall
It also further stated:-
Cheslyn Hay population was 3,309 in 1911 and 3,232 in 1921; Great Wyrley was 7,200 in 1911 and 7,920 in 1921

Cheslyn Hay had 803 acres of land held by many freeholders with a rateable value of £9,406; Great Wyrley had the Duke of Sutherland as principal landowner with other major landowners being William E. Harrison JP and Trustees of the late T.J. Hatton

Main crops farmed in both villages were wheat, barley and turnips

Both villages had a small number of private residences.
N.B. The Great Wyrley Parish Council minutes of October 1911 meeting state there were about 418 voters in the village; Minutes of the Council meeting of September 1912 state great concern due to approximately 439 voters being in the village.
Public elementary schooling was well established; Cheslyn Hay School was built in 1882 and enlarged in 1895 for 707 children and Great Wyrley School was built in 1882 and enlarged in 1906 for 450 children. (Bridgtown Council school was opened in 1912 and had in the order of 140 pupils.)
The communities had various shops. Kellys Directory refers to butcher, solicitor, hairdresser, newsagent, Co-op, plumber, draper, grocer, baker, ironmonger, milliner, fried fish merchant, tobacconist and book shop.
Public houses and clubs were an integral part of the community as drinking establishments and also as participants in many sports and social activities. A rough comparison of the population compared to the number of watering holes™ suggest the community was reasonably well-served!
These inter-actions where public houses and clubs are seen as the hub for numerous activities cannot be over-stated. Links with employment, military practices, local politics and numerous sports of various disciplines are mentioned in many information sources.
The Walsall Observer gave extensive coverage to sport in Walsall and surrounding areas in 1911. Amongst the many, three rather unusual sports were highlighted. Firstly, public houses ran a league for air gun shooters. Secondly, a bagatelle league was run and, thirdly, events were being held that are unthinkable in todays environment.
This article refers to a sparrow shooting contest. It was held at the Talbot Inn, Cheslyn Hay. The pastime can be seen as well-established as the paper also confirmed veteran knights used to meet at the Star Inn, Great Wyrley over supper to decide future matches.
Hec Moseley was a leading sportsman in the area dating back to the period immediately after the Great War. For the Queens Silver Jubilee in 1977 he wrote an article about sport in the area and stated Pigeon Flying is one of the oldest sports in existence and early racing was mostly for short wammers or homing pigeons to be exact. These were raced wherever it was possible to see the start from the finishing line. Birds have been known to fly straight through the old meat or bread delivery vans if they got in the way. The flyers used to support clubs at Cheslyn Hay and Bridgtown.
(A number of Society members recall pigeon flying and racing was very popular with pigeon lofts being a standard feature in most gardens in the villages).
Details from two articles, as below, in the pre-Great War period provide further interesting contents.

The variety of sports in the general area was wide-ranging. A sample summary is included at the end of this chronicle.
Flower shows were a major annual social occasion in the villages. They were well-established. Great Wyrley Horticultural Society held their inaugural show on Park Field (later High School site) in 1905. Cheslyn Hay held its 14th annual show at Barn Flat Grounds. The Great Wyrley show was opened by Thomas Sambrook and the tug of war competition was won by Cheslyn Hay colliery that defeated Great Wyrley colliery. Cheslyn Hay had a gymnastic exhibition, tug of war and Cheslyn Hay Victoria Brass Band played music.
Cheslyn Hay and Great Wyrley Parish Councils ran independently of each other. There is minimal content to indicate a combined approach to common issues. Both operated through a structure of sub-committees such as Fire Brigade, Burials and Allotments. Their roles, especially the latter sub-committee changed during the various phases of the Great War, as can be seen later. Both Parish Councils linked with Cannock Rural District Council on relevant District issues which was formed in 1894 and had a population of 26,012 in 1901.
Allotments were a significant feature in the community. The Allotment and Cottage Garden Act had been strengthened in 1908 and it made Local Authorities provide allotments if there was a demand.
At the committee meeting in Cheslyn Hay on 28th February 1912, the minutes state 'many people attended meeting with complaints of trespassing, pigeons, and theft. Most complaints were about Upper Allotments. They included trespass of houses. A recommendation was made for each allottee should have a lock and key and barbed wire should be put up near, or on, Pinfold Lane. It was agreed that the clerk should write to the Duke of Sutherland's agent that a right is granted to the occupier of the Lord Nelson Inn.
Great Wyrley Parish Council at their meeting in August 1911 reported that many allotment holders had rent arrears.
Religion was an important feature in the community. A United Methodist Church was erected in 1855 in Cheslyn Hay and was enlarged in 1898 to sit 66 people. A Primitive Methodist chapel was erected in 1880 and sat around 200 people. The Primitives team in local football leagues further demonstrate the church links with the wider community.
St Marks was built in Great Wyrley in 1845 and sat 500 people. A Primitive Methodist chapel was erected in 1906 in Upper Landywood while Lower Landywood had a Wesleyan Chapel built in 1858.
The details show the depth and range of religious establishments in the community and also, perhaps, the apparent divided nature of the two streams of Methodism.
The Cinematograph Act of 1910 enabled a significant growth in the number of cinemas. The buildings could also be jointly used as variety halls or theatres. The newsreels provided an essential information source to customers as well as entertainment for all family members that attended. This was of special significance during various stages of the Great War, as outlined later. An extract from the Walsall Observer front page in January 1911 shows examples of local establishments and their offerings.
Thanks to an excellent offering from Ned Williams, more details of local Cinemas have been produced. They demonstrate the range of cinemas in, and around, our area which continued up to the start of the Great War. Details are included at the end of this chronicle.
As stated earlier, the threads between local employment, social pleasures and military activities are very clearly seen. The immediate local area can be generally classified as a mining district (more than 20 privately owned mines) with specialist engineering plus other industries such as well-established Gilpins, Hawkins and Rosemary Tiles establishments also featuring in the community. The picture below shows a typical mining team having a break from their arduous activities.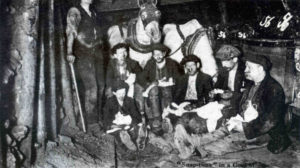 It can be suggested that the mining industry was generally at the forefront of industrial unrest and could be seen as dangerous, based on the number of accidents and deaths in and around this time. An article at the time, as displayed below, provides further evidence of the dangerous nature of the activities.
The profile of Lt-Colonel Harrison provides the best example of inter-actions between employers, the local community and the military authorities. A summary of the Lt-Colonel is included at the end of this chronicle. The inter-actions can best be seen by the Great Wyrley Horticultural Society details listed below stating that Lt – Colonel Harrison was one of the principal financial contributors and the picture of Norton Hall. This was a family home handed over by the Lt-Colonel to the Territorial Force for use with their extensive drill sessions and practices.