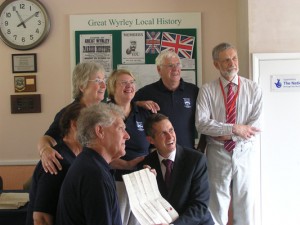 Visit to Mother of Pearl factory confirmed for October 10th. Members are asked to speak with Pam Ball for any further information that is required.
Gavin Williamson M.P. for South Staffordshire joined us for the August coffee morning. He re-iterated the importance of heritage in our community and looked forward to the next publication by the Society.

A letter was subsequently received in which an invitation was issued to the Society to visit the Houses of Parliament, if desired. Members are to be asked if this is something they would wish to be further considered by the Society.


Andrew George, Chief Archivist at Lichfield Record Office also joined us for the August coffee morning. He bought an array of 'old' documents with him that are applicable to Great Wyrley and are retained at the Record Office while available to the general public to view.
Great War Artefacts have continued to be received. Thanks are afforded for the contents received and members are asked for their continuing support. The artefacts received to date indicate that more heirlooms are held in wider family collections (often stored in the attic or similar).
This level of support has encouraged the Society to submit a funding application bid to the Heritage Lottery Fund (HLF). The outcome should be known in 8 to 10 weeks. If successful, it will enable our efforts to commemorate the Great War to be further developed.
The Express and Star has submitted a bid to the Heritage Lottery Fund to digitize its vast photo library and make it available over the internet to the general public. It called for support and the Society sent a letter that has since been published.
The demise of the Carl Chinn show on WM radio has been commented on by members. The Society asked for the support of Gavin Williamson to address the concerns and the following correspondence has subsequently been received.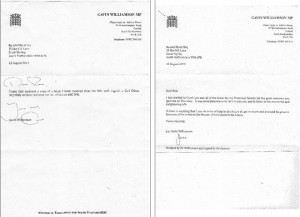 Community News
Community First Responders attended more than 200 incidents last year in Great Wyrley and Cheslyn Hay last year. They save lives and they are all volunteers doing their best in their spare time. They have a vehicle that is well past its sell-by date spending much time off-the-road. Also, they have very few volunteers in the village. Can anyone help them in some way?