It was pleasing to learn that our Chairman, Gary Smith, is making a steady recovery after a serious medical operation and hopes to attend Society events in the not too distant future.
Feedback since the 10th October visit to the 'Mother of Pearl' establishment has been very positive. Thanks are afforded to Pam plus the team for making the arrangements and to Pauline for providing a summary of the outing as below.
'The visit was a step back in time and very interesting. A skilled profession (Mr Hook – a one man band) showed us how each step was performed to create mother of pearl buttons on various machinery. The machinery was old but maintained with pulleys and grinders. The shells he used were stacked up in piles and the scrap pile was his 'stock pile'. He gave a very amusing talk and showed us around the small and cramped unit which had an Aladdin's Cave of various old items'. The pictures below show Mr Hook at his work.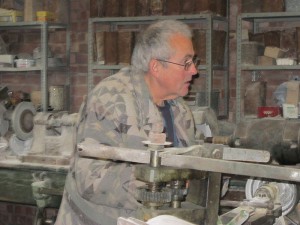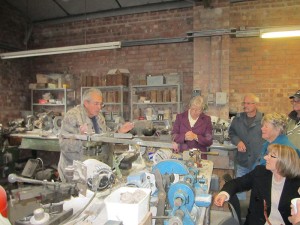 'Our onward journey took us to visit the Pen Museum in the Jewellery Quarter of Birmingham. It was very interesting to see how many pen nibs were on display along with fountain pens, typewriters, badges and all sorts of memorabilia. All round, a very enjoyable day out'.
The Society participated in the Bridgtown Society Open Day on October 20th. Tony, Diane and Derrick manned our display and confirmed an interesting day was held as 'quiet periods were soon over as more people quickly came into the event'.
Rose Westwood gave an interesting talk at the Coffee morning on 'the life of a Vicars wife' and also encouraged discussions and thoughts on community life and spirit, especially within Great Wyrley.

Detailed preparations are on-going 'behind the scenes' to make good use of the new materials being kindly bequeathed (or donated) to the Society in readiness for the Annual Event on 16th November at Harrisons Club.
Further Great War project details have been provided to the Heritage Lottery Fund in support of our funding request. It has been stated that 'it is very competitive and we should have a response by the end of November'.
Members were asked at the Coffee Morning if they would wish to receive electronic copies of the monthly newsletter. An initial list has been raised of accepters. Should anyone subsequently wish to join the list, please tell anyone on the Management Committee or drop an e-mail to ron.myatt@sky.com. We would be especially pleased to forward the newsletter to members who are unable, for any reason, to attend the monthly Coffee Mornings.

Ron Myatt