By Gary Smith
As I wrote in the spring edition to the magazine that we were going to unveil the memorial to the names on the gates that were misspelt all those years ago, well we finally achieved it on Saturday the 15th August, as we know it was VJ Day, so it brought together two poignant occasions. We invited members of the Parish Council, together the District and County to say the least there for the first time in Wyrley we had three chairpersons together, Kath Perry from Staffordshire County, Cath Williams from the district and Tony Newell from the Parish, naturally there was the Royal British Legion, FROG better known as Friends of the Garden and of course ourselves, though not least was our own historian to the Society and the village, Paul Ford, as once said he was instrumental in all of this happening, He gave a speech after unveiling the stone, we tried to keep the numbers down in accordance with government policy but I'm afraid we had seven more than the permitted number, but we all took the size of the gardens and spread out, we held two minutes silence with the Royal British Legion as they honoured the fallen at their site of the
V J memorial.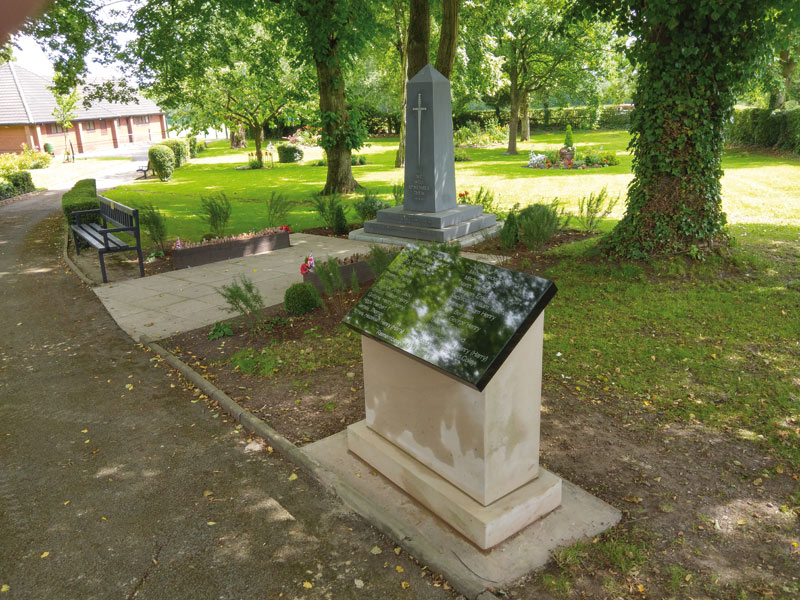 Here is the speech which Paul gave to the assembled audience; "Memorial Day, thoughts. We are here today to reflect on our community past, and celebrate our community present and future. "In the wake of the Great War communities such as ours sought to make sense of that war by reflecting on its human cost. Thanks to William Harrison, the Parish Council and our then wider community, this space was dedicated in perpetuity to that reflection while the fields behind, as a recreation area, cradled the idea of life.
"As the centenary of the war approached, the Local History Society sought to understand the effect of the war on our then community and to rediscover those men that did not return; and this poignant stone stands as part-testament to the journey taken by the community of today to respect that of yesterday. That journey highlighted, of course, that these men were never just soldiers; they lived, loved and were loved. And, thanks to the Friends of the Gardens, Parish Council, British Legion (not forgetting the sponsorship of the HLF and Tesco) and, as ever, the support of the local community-who have simply followed the ideals of those after the war-this garden, while remaining a place for reflection, is also now a place of life, colour and fragrance. This stone remembers their passing, the garden their life.
"So, if you truly want to experience community, look around you".
Fortunately the weather was okay, though not as hot as during the week, at least part of the project has been completed, it is now up to Paul to finish the book which is greatly anticipated.