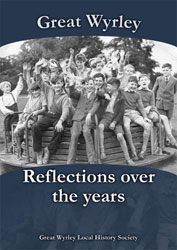 More than 100 people joined us on December 12th 2012 at the Community Centre to celebrate the launch of our book 'Great Wyrley Reflections Over The Years'. It was a pleasure to celebrate the result of three years hard work and research from numerous people with colleagues, friends and members of the community. Thanks to the support of the Heritage Lottery Fund, we have been able to produce 240 pages of reflections of the changing faces of our community.
The Society Chairman, Gary Smith, introduced the evening celebration and welcomed our guest speakers, Patrick Corfield and Fred Pritchard. Patrick Corfield, Staffordshire County Councillor surprised, and entertained, even the most ardent 'Heritage' minded person with facts about the quality and range of heritage features in Staffordshire. The picture below shows Patrick during his address.
Patrick handed over to the Society Honorary President, Fred Pritchard, who welcomed the book as a means of ensuring future generations being able to see what life was like in the community through the ages, especially after the Second World War. At conclusion, Fred asked everyone to join him in a toast to the Society. Finally, the Society Chairman invited the book authors and Society Management Committee members to join him on stage and thanked everyone for their contributions.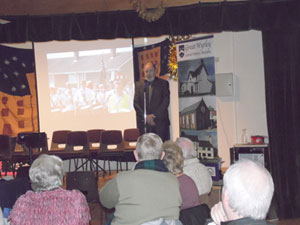 At the end of the evening, attendees were delighted to know the initial stock of books were available for purchase, if preferred. The picture at the end of this article shows people awaiting their books.
A number of shops and Organisations have kindly agreed to act as distributors to personal callers at their premises. The book can be purchased for £8 from Sparkles (on the A34 next to the Sports and Social Club), Dave Preece, Newsagents in Bridgtown, Landywood Voluntary Centre (on the A34 below The Swan heading towards Cannock), Bargain Booze and / or Kelchers Opticians on the Quinton precinct or the Parish Council office at the Community Centre. For further information, please give Gary Smith a call on 01922 418546.
With Thanks to the Chronicle for featuring the book launch.[/caption]