The AGM was as short as in previous years, the committee were willing to stand for another year, so it was proposed by Kath Caddick that we be re-elected en masse. This was agreed by the members. We then had an excellent quiz, organised by Peter Holmes for which we thank him. The winners were "The Kemps & Co".
The centre is open every fourth Thursday, when anyone can come and look at the photographs, maps, documents etc. or just come for a coffee and a natter.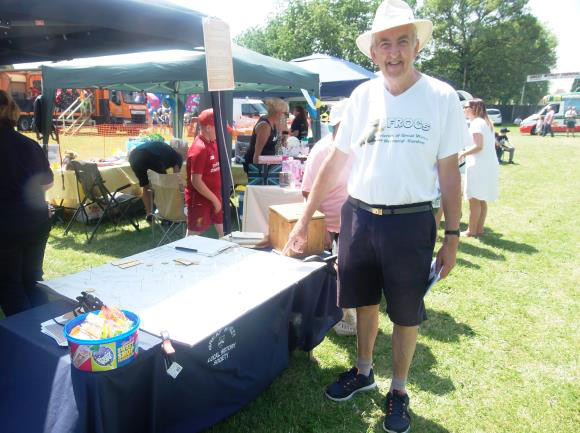 Another fantastic Carnival! The weather was very hot, and we had a lot of visitors to our stall. The tithe map caused quite a bit of interest. Photograph of Martin Whitby choosing his position on the map.
The winner of the "Hoard" was Aaron Bradley.
The winners of the best float was Moat Hall Primary School, second was Thomas More School. The best decorated stall was won by the Townswomen's Guild.
A great time was had by all at the trip to Warwick castle. Once again the weather was very kind. Our thanks go to Pam for organising a super trip.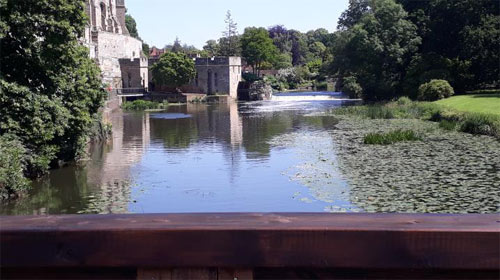 I am starting to book speakers for next year. (I know it seems a long way off!) If you hear a good speaker, preferably with an historical theme, could you collect details and pass them on to me. Thanks. Di
Future Speakers and other events
August 15th – Old Hall Tableware Nigel Wiggin
September 19th – Slip of the Pen Michael Taylor
October 17th – The King's Loosebox Mary Bodfish
November 16th – Annual Event at Harrison's
November 21st – Coins P. Griffiths
December 19th – Christmas Social
2020
January 16th – Scandalous women Janis Lomas
February 20th – History of Lichfield
March 19th – Dukes & Duchesses of Sutherland Steve Booth