Sue Bray entertained us once again with an interesting talk about Lichfield and its local trades. She then had a quiz for us, do you remember what a chuff or a baldrick fixer was?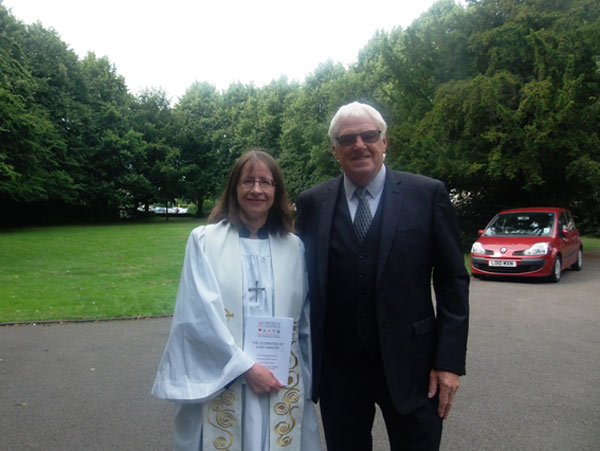 Gary and Tony represented the society at the induction of the Reverend Monica Judson into the post of  Parish Vicar. The Rt. Reverend Clive Gregory, Bishop of Wolverhampton lead the induction.
The centre is open every fourth Thursday, when anyone can come and look at the photographs, maps, documents etc. or just come for a coffee and a natter.
This one is another unknown, it could be 1920's or 30's. Is the young lad in the background having a sulk?
Future Speakers and other events                                              
August 15th – Old Hall Tableware  Nigel Wiggin
September 19th – Slip of the Pen Michael Taylor
October 17th – The King's Loosebox Mary Bodfish
November 16th – Annual Event at Harrison's
November 21st – Coins P. Griffiths
December 19th – Christmas Social
2020
January 16th  – Scandalous women Janis Lomas
February 20th – History of Lichfield
March 19th – Dukes & Duchesses of Sutherland Steve Booth  (Chuff – clown,  Baldrick fixer – one who makes and repairs church bell straps and clappers)