We welcomed Steve Booth to our coffee morning, he gave a very interesting talk about Cannock Chase. One of the items he mentioned was Beaudesert Hall, (Beaudesert translates as beautiful wilderness). In 1546 it was given to the Paget family. The 6th Marquess of Anglesey tried to sell it, due to financial difficulties. Unfortunately there were no buyers, so the furniture was sold, and the house was demolished in 1935. Even this was not completed as the demolition firm went into receivership.
---
We've had a request from a Mrs Ann Mumford, born and raised on the village, and is looking for information from anyone who may be able to recognise the people in the photos below.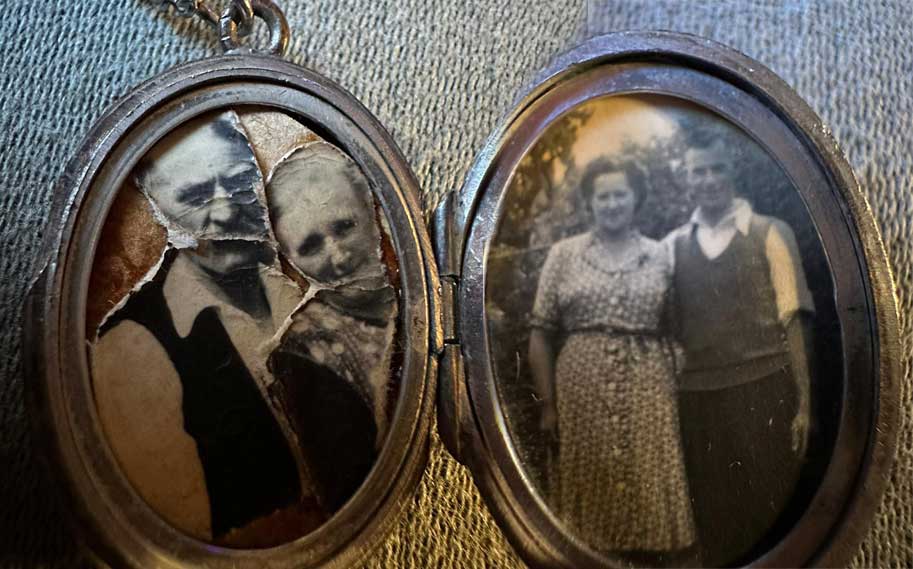 ---
It's Gordon Bridges Funeral on Friday 16th June. Condolences and deepest sympathy from the whole of the society go out to Pam and all the family.
---
If you have any photo's we can copy and return them, or you can send them to diane@mstolley.plus.com or winsongary@aol.com
---
Have you heard an interesting speaker recently? We are always interested in different speakers. Please tell Diane if you know of any one.
---
Black Country Museum
Everyone had a great day out at the Black Country Museum, the weather was good, a shame our Chairman Gary Smith was too ill to attend. It was lovely stepping back in time and seeing how life was like long ago. So many things to see and do, from looking down a coal mine, or taking a trip on the canal. Tasting the traditional fish & chips was a big treat, as they don't cook in beef dripping anymore. It was great looking at all the old houses and seeing how the homes were decorated, with just the basic accessories, not a television or phone in sight. How sure we'd managed today without our phones. Here are a few photos taken on the day. A trip to the Black Country Museum.
---
Future Events
Thursday 18th May Steve Booth Cannock Chase talk Table Top Sale
Thursday 18th May 7-9pm John Homer Black Country Tales
Thursday 25th May Trip to Black Country Museum
June 15th Keith Robinson Miner's struggle for Justice with table Top Craft Sale

Thursday 15th June – Keith Robinson – Miner's struggle for Justice Table Top Sale
Thursday 22nd June, 7-9pm – OPEN EVENING Click here for details
Saturday 24th June, 11am-4pm – Great Wyrley Carnival History Stand Display
Thursday 20th July – Kevin Reynolds Pigeons, from Gods to the gutter – Table Top Sale
Thursday 17th August Rob Elliott British Army in the 18th century Table Top Sale
Thursday 21st September Guest Speaker – Trevor Bevan – Giving a talk in Charles Dickens Table Top Sale
Thursday 28th September, 7-9pm OPEN EVENING Guest Speaker Click here for details
Thursday 19th October – Val Campbell Victorian Food
Thursday 16th November – Alan Pugh Battle of the Alamo
December 21st Social
---
Open Evening on Thursday 22nd June 2023
We had a great evening, lovely to see old & new faces come along for a cuppa & a chat… READ MORE
---
Our Royal Summer Magazine
It was lovely to see the World coming together to celebrate His Majesty. Despite the weather, what an amazing parade, an historical moment, the likes of it, we haven't seen for 70 years & may not see again. It will be interesting to see what happens next? Read all about it in our latest magazine. If you are a member, you will get this as part of your membership, available to buy from the committee for Non-members.
I announced that we were doing away with the fourth Thursday morning in the month for open days. We decided later, that we will keep up with that morning for the foreseeable future as we need to keep on top of things. We will continue as availability by committee members allows. Also the question of Open Nights, in future it won't be open on the day of the Coffee Morning, dates for these will be announced well in advance. At our first Open Evening on 16th March, there was a great turnout with a number of fresh faces, that were unable to come to our coffee mornings and find out what's going on in the society. We are all looking forward to the next Open Evening 22nd June.